Documentaries
SHARED VISIONS (50 min. 2013)
Status: completed and available upon request
Shared Visions is an ethnographic documentary that describes a cross-continental artistic collaboration between two amateur artists, Piet van Peter and Zeradawit Weldarafael. Based on ethnographic research conducted between the Netherlands and Ethiopia, the film addresses what being a non-professional artist means across cultural frontiers. Piet is an American artist whose vocation for painting originates in a search for pleasure and personal self-fulfillment. Zeradawit, on the other hand, responds to a spiritual call, using painting as an expression of faith. Despite their different undertakings, techniques, and figurative styles, the two painters contaminate each other's styles, with a strong commitment to building an enriching collaboration.
Shared Visions (50 min. 2013) has been screened at Kinomoviemento (Berlin, Germany), Pllek (Amsterdam, The Netherlands), Cinema Massimo and Cecchi Point (Turin, Italy), and at the Cable Car Cinema (Providence, RI).
LONGING NÔS TERRA  (2017)
Status: pre-production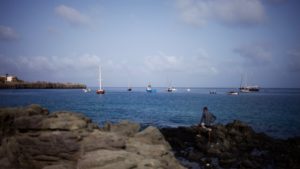 Longing Nôs Terra (working title) is Francesco's second documentary. Francesco has conducted an exploratory fieldwork in Praia, Cabo Verde over the summer of 2016 and he is out for a first set of interviews in New England. The project aims to recount the transnational bonds and experiences of migration of Cabo Verdeans and explore the concept of Cabo-verdianness around the globe.